Gunswords Tin Soldiers
Category: MMO, RPG, Strategy
Tags: Bloody, Browser, Free, Military Strategy, War
GunSwords: Tin Soldiers online game – is a new free tactical turn-based strategy game in which you have to take command of the combat detachment consisting of three tin soldiers and try to win the title of the best squad that can win, which threatens world destruction, the outer mind.
All battles in GunSwords: Tin Soldiers are held in tactical mode that sets players on the strategic use of all kinds of tricks and gimmicks, because the most important thing here – it's a victory!
§ Gameplay GunSwords: Tin Soldiers
Gameplay games GunSwords: Tin Soldiers is not overloaded with unnecessary bells and whistles, everything here is made as accessible as possible for any player. Before you put certain tasks and conditions of its execution.
You will need to constantly monitor the state of his party, buy new weapons and uniforms and study skills.
After the end of each battle, regardless of whether you win or lose, you will be given a reward – the experience and virtual currency. All that you will need to GunSwords: Tin Soldiers for further development of its pumping and tin soldiers.
The greatest interest in GunSwords: Tin Soldiers is for PvP battles, where fighting with each other, players increase their reputation.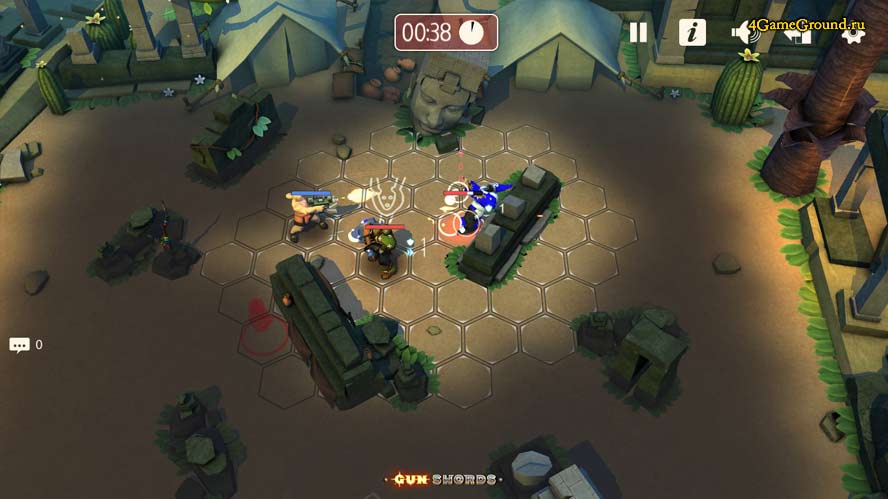 § Battles GunSwords: Tin Soldiers
The combat system is a tin soldier, in the same time and is simple, and has a huge number of various tactical possibilities.
All the battles take place step by step, you will always have the opportunity and time, as the need to consider his next move, but at the same time to analyze the actions of the enemy.
During the battle, you control one of the soldiers of his squad, just as in the battle can participate six fighters (two groups of three). It turns out that something like a miniature battle command.
Continuous fighting and improving in the martial art, you will be able to gradually develop its own strategy and tactics. Also, you will be able to identify for themselves the most preferred of the available in GunSwords: Tin Soldiers, class fighter.
§ Classes characters GunSwords: Tin Soldiers
The online strategy GunSwords: Tin Soldiers presented three character classes: Swordsman, arrows and a mage. Each of these classes has its own unique set of skills and use certain weapons.
Weapons, by the way, in the world GunSwords: Tin Soldiers there pretty much, with a variety of features and performance. Therefore, always pay attention to the parameters of the weapons purchased by you, it helps you make the best use possible of his party.
At first, you will "pop" into the free groups, where you can gain experience and at the same time to try all the classes, choose the best for yourself.
The whole world of online games GunSwords: Tin Soldiers imbued with some unique, fun places, the atmosphere, which, combined with a simple gameplay, allow good time for the monitor.
Join now, start playing a tactical turn-based strategy GunSwords: Tin Soldiers right now! Become thus champion who is able to conquer outer mind! Sign up on the official website GunSwords: Tin Soldiers!
GunSwords: Tin Soldiers is a browser-based online game and does not require downloading the client and the beginning of the game you will have enough to click on the "PLAY!", which is located below. After that, you will be automatically redirected to the official game site and you can immediately start playing, having a simple registration procedure in an online game GunSwords: Tin Soldiers.
GunSwords: Tin Soldiers trailer
GunSwords: Tin Soldiers images