Grand Prix Racing Online
Category: MMO, Simulation, Strategy
Tags: Browser, Car, Economic Strategy, Free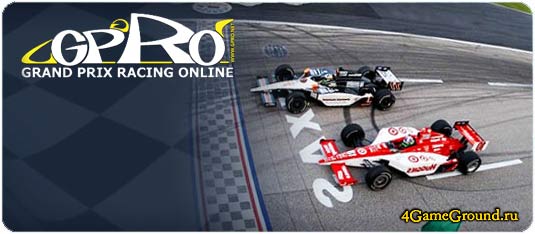 Grand Prix Racing online game – a free multiplayer online racing manager of Formula 1, in which you will get at its disposal a racing team, which you will step by step lead to a league title.
The successful development of his racing team in Grand Prix Racing Online you will need to deal with selection of personnel (pilots, mechanics, technical directors and other artists), to negotiate with sponsors to buy the cars and new equipment to deal with their improvement, to take part in qualifying and much, much more.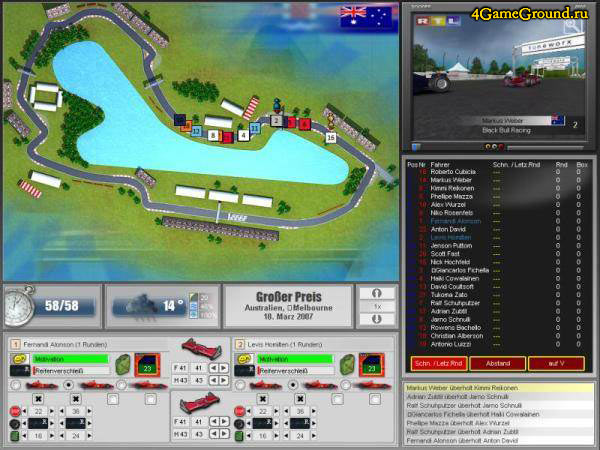 § The principle of the gameplay racing game Grand Prix Racing Online
At first glance, the online game about the Formula 1 Grand Prix Racing Online has a lot of subtleties and it may seem difficult to master. But it is only at first glance, you learn pretty quickly all the wisdom of the racing simulator.
From the very beginning of the game, after registration, you will find yourself in a group of beginners, where you will be taught the basics of Formula 1. You will compete with you on equal level players.
The Grand Prix Racing Online is available at your complete disposal racing team with the necessary personnel training track with auxiliary facilities, as well as a small amount of money. Fill up their cash reserves, you can, by participating and winning in races and tournaments, as well as getting their news.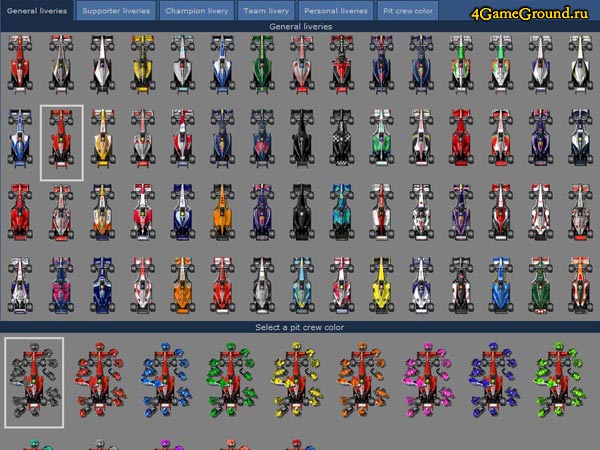 § racing cars and its performance in Grand Prix Racing Online
However, all the above listed – this is just a minor detail in a racing game Grand Prix Racing Online. The most important thing GPRO – this, of course, the racing car. They are a huge amount. Also in the game is a wide range of spare parts, you may need to repair and improve their cars.
For a selection of optimal settings for the newly purchased your car, you are given the eight test runs. In these races you can rebuild the following: front and rear spoiler, engine, suspension, transmission and braking systems. Each of these parameters is responsible for multiple dynamic characteristics.
Setting range of characteristics ranging from 1 to 999, which gives you a pretty broad opportunities at tuning the car. Each track of the race manager has its own characteristics and complexity, because before each new arrival you will need to think carefully about the tactics of the race, and tweak your car at the track.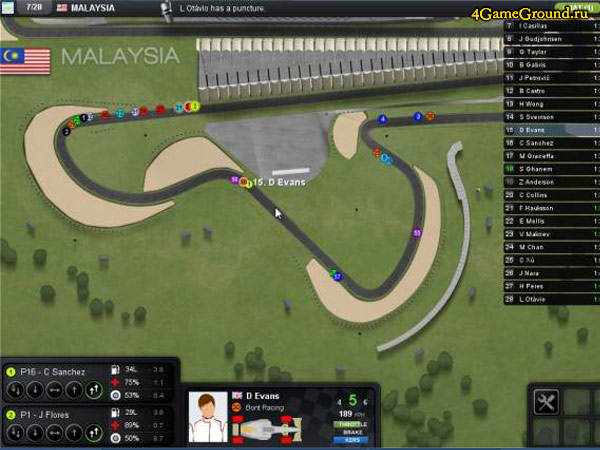 § pilots racing manager Grand Prix Racing Online
No racing car not bring your team to victory without an experienced pilot. Therefore, in the game about the Formula 1 Grand Prix Racing Online you will need to try to sign a contract with such a pilot. Here, all the drivers are different in terms of their skills, so be careful.
The easiest way to get an experienced pilot at the end of the season, that certainly does not bring you victory in the current season, but will give a significant advantage in the next. In addition to the start of the new season on the recruitment of pilots in chaos and confusion.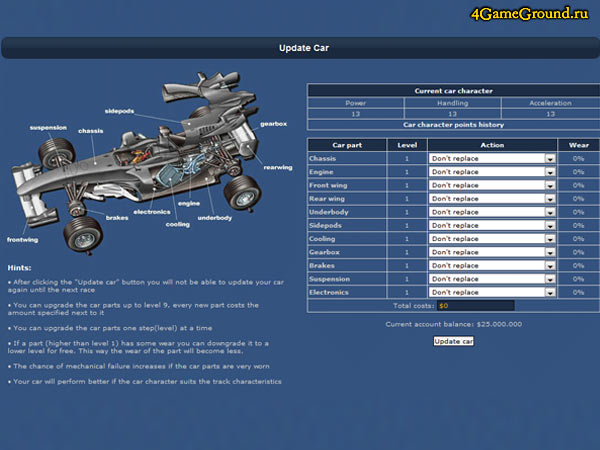 In the early stages of your career in Formula 1, try as little as possible to spend money on items that do not absolutely necessary. Do not tear immediately improve your car, better save up the money, you can get even more in the future. This racing simulator is fraught with many surprises.
Join now, start playing online simulation of the Formula 1 Grand Prix Racing Online, create your own unstoppable racing team, a team of professionals!
Grand Prix Racing Online is a browser-based online game and does not require downloading the client and the beginning of the game you will have enough to click on the "PLAY!", which is located below. After that, you will be automatically redirected to the official game site and you can immediately start playing, having a simple registration procedure in an online game Grand Prix Racing Online.
Grand Prix Racing Online images